Dimple plate
Dimple plate heat exchangers in industrial applications
Our decades-long expertise in working with the thermodynamical variables can be applied to all imaginable fluids in heat exchange plates or heat exchanger systems. This includes single-phase liquids such as water, thermal oils, or even high-viscosity fluids such as refrigerants. We also handle single-phase superheated gases for heat transfer, fluids that evaporate in the dimple plate (e.g. natural refrigerants, freons), and those that condense in the thermo-plates (e.g. water vapor). With BUCO's outstanding know-how, we can achieve maximum allowable pressures (PS > 70 bar) and maximum allowable temperatures (TS > 400°C) for heat transfer in dimple plate. Trust in our expertise to ensure effective heat exchange in your systems.
If you're an engineer or consultant, you know that industrial heat exchangers, ice builders or ice machines are essential components of many industrial processes. But when it comes to choosing the right type of Industrial Heat Exchanger, things can get complicated quickly - especially with popular options such as a dimple plate projects versa shell-and-tube, plate heat exchangers, drum ice machines, double wall or half pipe vessel projects.

We'll dive into the key advantages and benefits of dimple plates so that engineering professionals will have all the information they need to make more informed decisions about their process equipment needs.

A Dimple plate has certain technical and economical advantages in many applications over conventional shell-and-tube exchangers, such as:
Individual designs of a single and double embossed dimple plate heat exchanger in size, shape and material enable flexible use due to a freely programmable CNC laser welding system.
High surface on small ground space
High efficiency and low pressure loss
Smaller quantities of cooling or heating medium due to small plate volumes of the dimple plate
Easy cleaning due to easily accessible single or double embossed dimple plate prime surface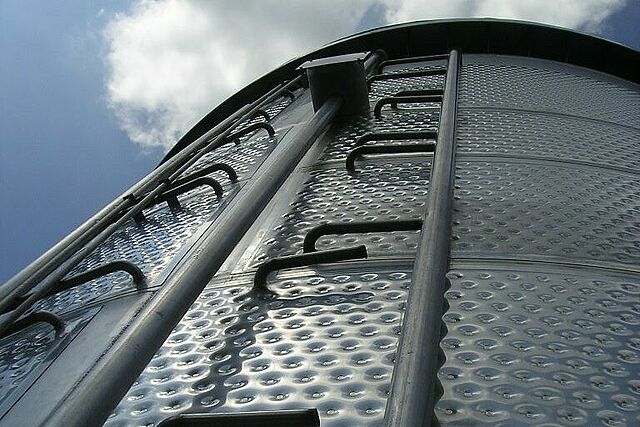 Single Embossed Dimple Plate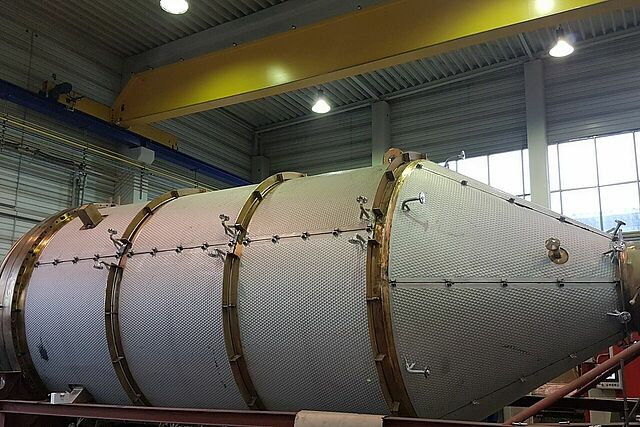 Double embossed pillow plate
Our decades of experience with dimple plates and our core competencies
Out of our calculations and simulations, the resulting design is based on decades of experience and advanced Computational Fluid Dynamics (CFD). Especially with regard to further optimization of product efficiency or operational safety.

Due to certain serial production with tendency to individual one-off pieces, each of our products is built up from pillow plates, no matter wether it is a single dimple plate heat exchanger, or a single laser-welded dimple jacket or pressure vessel wall or an entire heat exchange system, an ice water generating falling-film chiller, a static ice bank or an industrial ice maker, is cost-effectively and individally adapted to the user's requirements.
With the experience gained from many thousands of installed dimple plates, we have acquired special know-how especially in the following areas:
Optimal solution with dimple plates based on the customer's data and requirement
Based on the customer's data and requirements, our experienced project engineers work out thermodynamically and fluidically optimal solutions for the given heat transfer task. The optimum solution is worked out in close cooperation with the plant manufacturer or operator. Our CAD-designers work with modern 2D or 3D CAD programs according dimension and design of the projected process solution project.
The production of the thermally and fluidically optimized dimple plates take place directly at our company on state-of-the-art laser welding machines. Dimple plates for special applications can also be resistance welded, if better suited for the specific application. The whole manufacturing process is accompanied by our quality assurance, mainly European welding engineers, so that high quality of our products is guaranteed. We are able to supply dimple plates and heat exchangers as pressure equipment according to the requirements of the European Pressure Equipments Directive 2014/68/EU, with TR CU certificate for the Eurasian Customs Union and according to the requirements of ASME BPVC.
Analysis of pillow-plate solutions in industrial processes
In a first step, we specify the exact plant data together with our customer. We inspect the installation details, the system plans, measurement diagrams, as well as detailed design drawings. Through these insights, we answer the application requirements of any individual application or application detailed questions as such. If necessary, we also collect accurate performance and consumption data over a period of time. Load profiles over a period of time provide information about which solutions make the most sense. Energetically, as well as with regard to the initial investment, although especially in times of rising energy costs and a daily use, the amount of daily energy costs will remain important in the future.
Evaluation step
In a second step, our experts evaluate all collected data. Accordingly, the customer receives our assessment on his project data. Especially with regard to optimizing the efficiency of the specified dimple plate. Also with regard to operational safety and potential energy savings, we give our use case recommendations. We draw on our experience from various industries in which we are assigned tasks that need to be solved. Our experience in the most diverse application procedures is increasing and our flexibility to apply this successfully.
Solution concept and Design
As a result of our analysis, the idea of ​​the dimple plate solution concept and its design takes place. Consequently, we also look after and accompany the customer after delivery. As per our experience, there is a high need in many cases. The main focus is on the optimal efficiency of the dimple plate with respect to the guided pathes of the immersion dimple plates. During opertaion, it occasionally happens that the user requires other performance data and we have to support him in how changed technical paremeters change the overall result. We will gladly continue to provide assistance in this regard,
Plant and energy efficiency
Highest plant and energy efficiency are becoming increasingly important. These can only be successfully achieved, if the plant or product concept, as well as the fluid medium of the pillow plate are carefully and purposefully selected and used. In the change of numerous, alternative refrigerants, these fluids have to meet the future requirements from any ecological point of view. However, our primary task is to specify end products, which achieve high efficiency and high energy efficiency with good economy. All these technical parameters guarantee a successful project completion.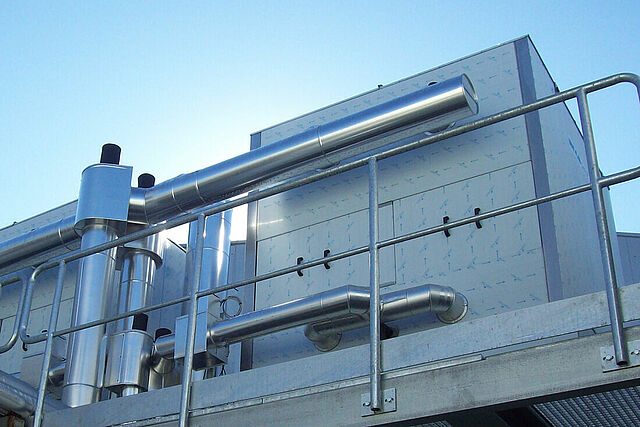 Falling Film Chiller
Industrial Ice Machine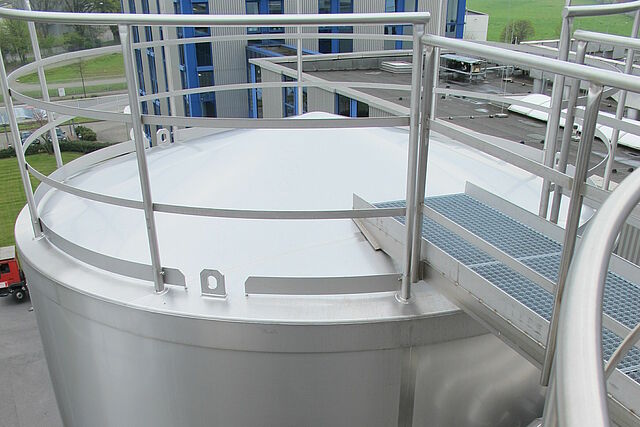 Industrial Ice Bank Silo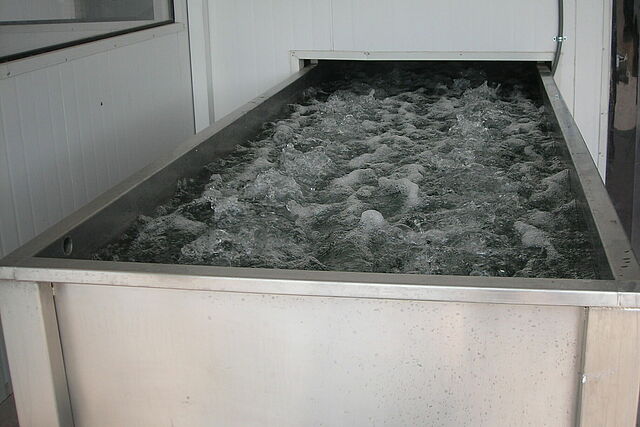 Industrial Ice Bank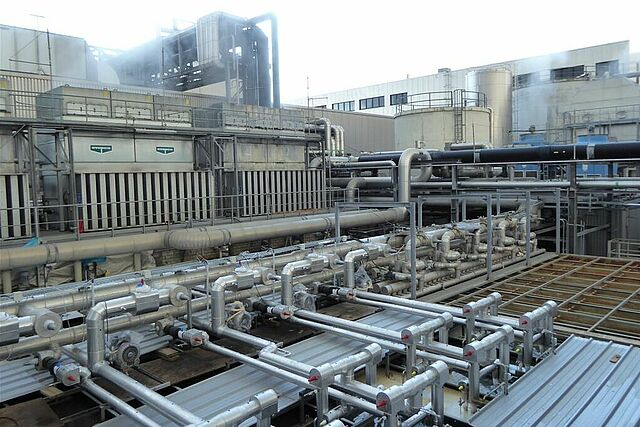 Industrial Heat Exchange System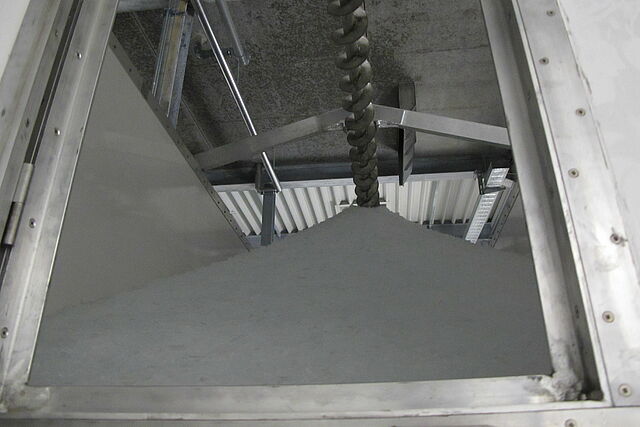 Industrial Ice Storage
We have always assimilated engineering science and thermodynamics optimally in the various manufacturing processes.
Thermodynamicists,mechanical engineers and welding engineers define the dimensioning, design and construction of customised heat exchanger panels and systems in materials ranging from mild and austenitic steels through to titanium, and ensure successful distribution of their work worldwide.
In doing so they fall back on production engineering expertise and calculations developed in the course of the past hundred years that are still being continuously optimised in an ongoing process.