Dimple plate
Our decades-long expertise in working with the thermodynamical variables can be applied to all imaginable fluids in heat exchange plates or heat exchanger systems. This includes single-phase liquids such as water, thermal oils, or even high-viscosity fluids such as refrigerants. We also handle single-phase superheated gases for heat transfer, fluids that evaporate in the dimple plate (e.g. natural refrigerants, freons), and those that condense in the thermo-plates (e.g. water vapor). With BUCO's outstanding know-how, we can achieve maximum allowable pressures (PS > 70 bar) and maximum allowable temperatures (TS > 400°C) for heat transfer in dimple plate. Trust in our expertise to ensure effective heat exchange in your systems.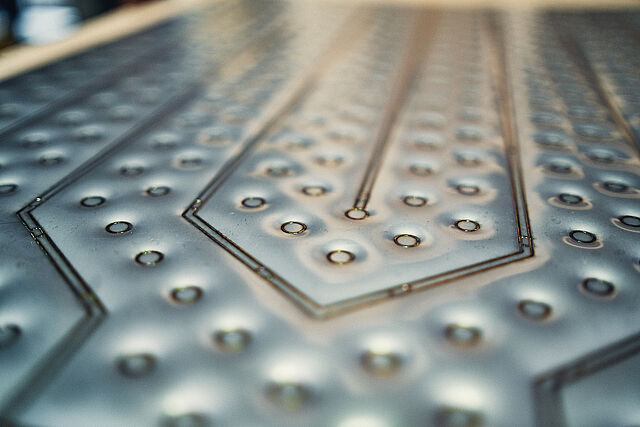 Optimized Flexible Welding Pattern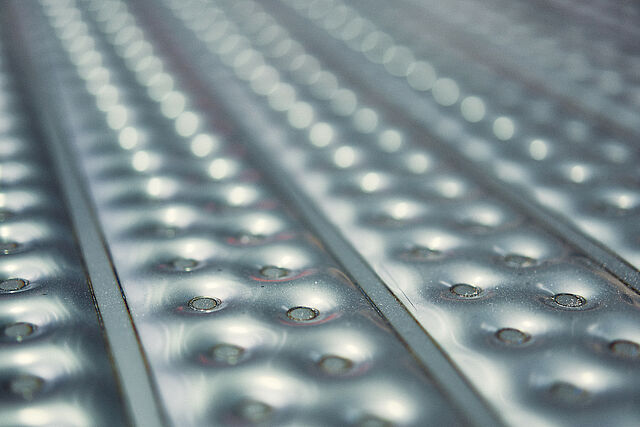 Straight Welding Pattern
What are the advantages with Dimple Plates?
Individual designs of a single and double embossed pollow plate heat exchanger in size, shape and material enable flexible use due to a freely programmable CNC laser welding system.
High efficiency due to favourable flow routing (counterflow and crossflow).
Low pressure loss in the shell space due to flat parallel ducts.
Attractive investment costs of a dimple plate due to thin-walled plates and an automated laser welding process
Low operating costs due to smaller quantities of cooling or heating medium in small plate volumes of pillow-plates.
Dimple Plate in industrial process technologies
Why is a dimple plate more economic, efficient, as well as more application-specific and has a multiflexible to use in so many industrial processes ?
For many applications in industrial process technology, dimple plates are technically and economically advantageous over conventional shell-and-tube or plate heat exchangers. Our heat exchanger plates are characterized by the wavy "pillow-shaped" surface and fully welded construction. A destinction is made between pillow plates profiled only on one side. In this case a thinner cover sheet is welded to a thicker base sheet. Pillow plates profiles on both sides are manufactured out of two sheets of equal thickness welded together.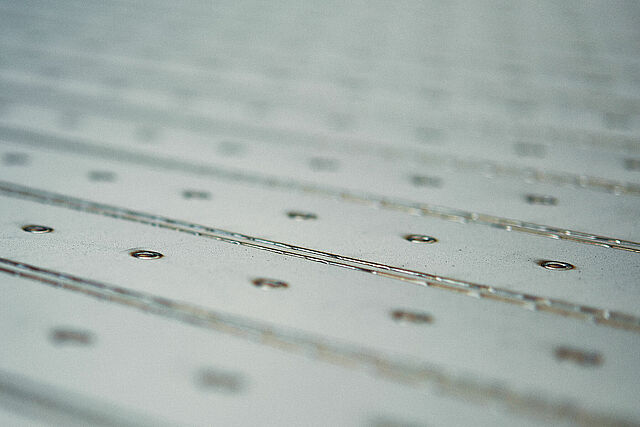 Welding Channel just welded and non-inflated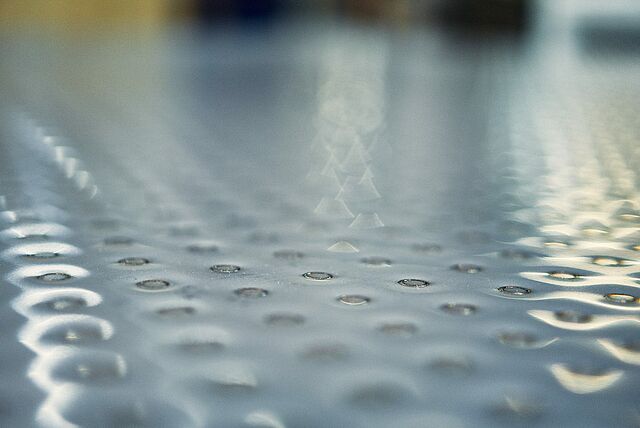 Welding Channel Inflated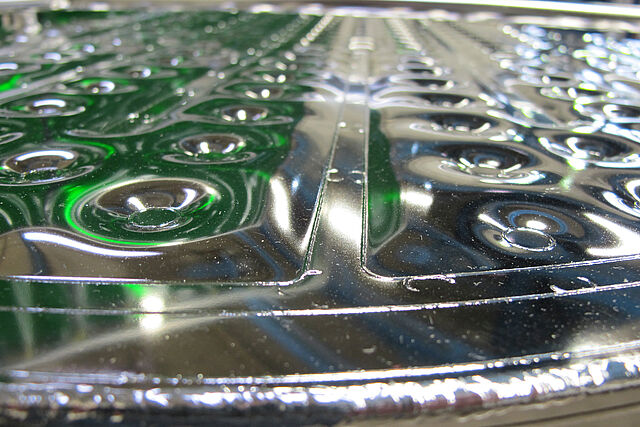 Electropolished Plate For Better Cleaning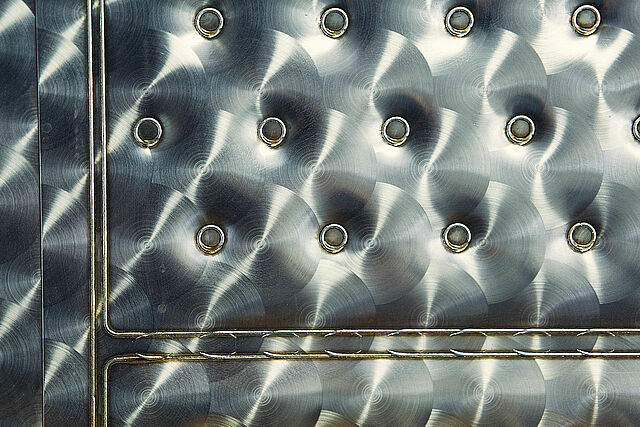 Marbled Metal Sheet As Tank Outer Wall
Optimal solution with dimple plates based on the customer's data and requirement
Based on the customer's data and requirements, our experienced project engineers work out thermodynamically and fluidically optimal solutions for the given heat transfer task. The optimum solution is worked out in close cooperation with the plant manufacturer or operator. Our CAD-designers work with modern 2D or 3D CAD programs according dimension and design of the projected process solution project.
The production of the thermally and fluidically optimized dimple plates take place directly at our company on state-of-the-art laser welding machines. Dimple plates for special applications can also be resistance welded, if better suited for the specific application. The whole manufacturing process is accompanied by our quality assurance, mainly European welding engineers, so that high quality of our products is guaranteed. We are able to supply dimple plates and heat exchangers as pressure equipment according to the requirements of the European Pressure Equipments Directive 2014/68/EU, with TR CU certificate for the Eurasian Customs Union and according to the requirements of ASME BPVC.
What Are Dimple Plate Heat Exchangers?
What is a Dimple Plate?
Single or double embossed dimple plates are in use for various applications. Dimple Plates profiled on one side can be used for temperature control. In general as heating or cooling of solid materials in direct contact, be it food or bulk materials. Dimple heat exchanger panels profiled on both sides, where two sheets of the same thickness are welded together, can be used in many process technology applications. For cooling or heating baths, these plates can be easily mounted directly in the bath tanks without need for complex assembly. In fluidized-bed reactors or dryers, the lower tendency to fouling and the easier cleanability proof to be advantageous. The continous heat transfer surface of the pillow plates is favorable when used as protection against thermal radiation or as flow breakers in stirred vessels. In industrial bread production in thermo-oil-heated ovens, thermal radiation from a flat heating element ensures uniform baking results.
Dimple plate heat exchange panel welding contours in any shape
By manufacturing on CNC-controlled laser welding equipment, welding contours can be produced in any shape. On the one hand, this allows flexible shaping of the dimple plate. Thus, pillow plates in simple rectangular shape, can be produced just as easily as round plated or plates with complicated geometric outer contours. Cut-outs of any shape and size, e.g. for the feed-through of pipes or cables can be easily realized in this way. On the other hand, the flow arrangement for the medium in the pillow plate can also be flexibly designed by means of appropriate shape of weld seams. The flow arrangement can be easily adapted to the flow rate of the heating or cooling medium in the plate, thus optimizing heat transfer and pressure drop.
Core business of dimple plates
Behind all the solutions we do offer, are our employees with their expertise. Mainly directed to process engineering, thermodynamics, fluid mechanics, pressure equipment and welding technology. We keep extensive know-how gained from decades of experience in the design and manufacture of heat transfer dimple plates. As well as we know and implement the specific requirements of the various industries, in which pillow-plate heat exchangers are used, and our solution can meet to complete satisfaction. We offer engineering companies, plant manufacturers and operators worldwide from the wide range of different industrial sectors individual advice and precise analysis. Mainly within their heating or cooling process tasks. We do focus on the aim of arriving at a solution that is optimally tailored to their needs. Both technically and economically. We support our worldwide customers in the planning, design and integration of our product into their overall system. This eliminates interfaces and the associated risks for our customers.
Laser-welded or resistance welded dimple plates and welding technologies
The production of any heat exchanger plate is mainly based on laser welding, but also on resistance welding processes. The laser welding equipment used comes from the well-known manufacturers with a lot of experience in laser welding technology, such as the market leader Trumpf GmbH + Co. KG as our main component of our laser-welding process. For decades Trumpf GmbH + Co. KG sets the standards in laser welding technology. This and the many years of experience of our welding engineers guarantee the exceptional welding quality of our dimple plates.
Single embossed dimple plate in use as base plate tank wall
Individual dimple plate heat exchangers profiled on one side can be used in a variety of ways. Not only the mentioned above. Dimple Plates profiled on one side, in which a thinner cover plate is welded to a thicker base plate can be also used to build walls or heads for tanks that need to be heated or cooled.
Analysis of dimple plate solutions in industrial processes
In a first step, we specify the exact plant data together with our customer. We inspect the installation details, the system plans, measurement diagrams, as well as detailed design drawings. Through these insights, we answer the application requirements of any individual application or application detailed questions as such. If necessary, we also collect accurate performance and consumption data over a period of time. Load profiles over a period of time provide information about which solutions make the most sense. Energetically, as well as with regard to the initial investment, although especially in times of rising energy costs and a daily use, the amount of daily energy costs will remain important in the future.
Evaluation step
In a second step, our experts evaluate all collected data. Accordingly, the customer receives our assessment on his project data. Especially with regard to optimizing the efficiency of the specified dimple plate. Also with regard to operational safety and potential energy savings, we give our use case recommendations. We draw on our experience from various industries in which we are assigned tasks that need to be solved. Our experience in the most diverse application procedures is increasing and our flexibility to apply this successfully.
Solution concept and Design
As a result of our analysis, the idea of ​​the dimple plate solution concept and its design takes place. Consequently, we also look after and accompany the customer after delivery. As per our experience, there is a high need in many cases. The main focus is on the optimal efficiency of the dimple plate with respect to the guided pathes of the immersion dimple plates. During opertaion, it occasionally happens that the user requires other performance data and we have to support him in how changed technical paremeters change the overall result. We will gladly continue to provide assistance in this regard,
Plant and energy efficiency
Highest plant and energy efficiency are becoming increasingly important. These can only be successfully achieved, if the plant or product concept, as well as the fluid medium of the pillow plate are carefully and purposefully selected and used. In the change of numerous, alternative refrigerants, these fluids have to meet the future requirements from any ecological point of view. However, our primary task is to specify end products, which achieve high efficiency and high energy efficiency with good economy. All these technical parameters guarantee a successful project completion.
Dimple plates and used materials
In general, the materials used, are stainless steels as to be AISI 304 up to titanium. Stainless steel's low thermal conductivity is partially counteracted with the ability to design thinner walls, because of its high strength and corrosion resistance. However carbon steel in the process fields, is mostly selected due to higher thermal conductivity.
Generally, the process and design execution is absolutely flexible. In focus is a very homogeneous temperature gradient, product-gentle and conciliatory tempering of products in general using liquids, refrigerant or steam as internal plate media. Even though laser welding technology is the most modern production method for dimpled surfaces, there are many applications, in which resistance welding offers technical and qualitative advantages.
Hence projects of various branches in many different industries worldwide, start with an individual consultation. Decisive for the success of the project is the professional exchange about the details and requirements of the project. Of course, this always happens in close cooperation with the user in order to work out his optimal solution.
Please note the following advantages of pillow plates:
Integration into vessels for mechanical and thermal double function with a dimple plate manufactured by laser welding.
Very homogeneous temperature gradient, product-gentle and conciliatory tempering of products by liquids, refrigerants and steam.
High heat transfer coefficient with low pressure drop in case of a dimpleplate manufactured by laser welding.
Heat transfer or radiation protection over entire surface of a laser welded dimple plate.
Lower tendency for fouling for a laser welded dimple plate.
Low intertia.
Better mechanical resistance to thermal cycling with dimple plate heat exchangers.
Long lifetime due to individually chosen materials and laser welding.
Low production costs due to automated laser welding process for a dimple plate.
Easy cleaning due to easily accessible single or double embossed laser welded dimple plate prime surface.
Reliability.
High heat transfer coefficient with low pressure drop with these laser welded heat exchangers for cooling and heating of industrial processes.
No expensive double shell or half pipe construction.
Less weight than half pipes for cooling and heating of industrial processes.
Low production costs due to automated welding processes.
Low material costs due to the use of thin metal sheet materials.
No surface damage on the inside of the tank due to the laser-welding process.
No cost effective grinding or polishing of the inner surface of the tank inside due to controlled laser welding.
Homogenous and conciliatory tempering of products using dimple plate heat exchanger for cooling and heating of industrial processes.
Long lifetime due to individually chosen materials and laser welding.
Any design possible according to application criteria or demand for cooling and heating of industrial processes.
Kind of weldings for pillow plates free programmable. Cut-outs for pipes, legs. etc.
Integration into vessels for mechanical and thermal double function for cooling and heating of industrial processes.
Laser welded clamp-on plates for existing tanks for cooling and heating of industrial processes.
Reliability of these heat exchangers