Move, temper, heat or cool products at the same time?
For this purpose, our single embossed laser-welded dimple plate are suitable. Direct contact or direct heat transfer over the smooth side are in the foreground here.

Single-embossed pillow plates, so-called dimple plates, are widely used in industrial process applications and are becoming increasingly interesting as a substitute product for conventional tube and coil-in-tank units. Heat exchanger plates can be used and installed as contact cooling or contact heating plates. The application area itself, the shape, the size and the heat transfer from the pillow plates are very multi-flexible and can be individually adapted to the needs of the process.
The flexible design possibilities of our single-embossed dimple plate heat exchanger plates as heat exchangers made of stainless steel, mild steel and special materials, allow the temperature control of products during other process steps. This is our main daily task as a dimple plate manufacturer. In this respect, it saves a separate thermal process stage and often increases product quality. At the same time, the large heat exchange surfaces of the heat exchanger plates ensure reliable process control with controlled homogeneous temperature control. U-values, even with contamination or a coating on the single-embossed dimple plates, on the other hand, are only insignificantly affected. Favourable temperature differences subsequently result in a significantly better efficiency compared to compact external heat exchangers. At the same time, the products, especially foodstuffs, are handled very gently.
In addition, as a dimple plates manufacturer, we can offer pickled, grinded or even polished plates. Individual designs in dimensions, shape and material allow flexible use in numerous industries and therefore extend the common standard of the single-embossed dimple plate as a heat exchanger. This also applies to connections on the heat exchanger plates, which can be installed in all types and sizes. Connections can be fitted to the Dimple plates as pipe sockets, threaded sockets or in flange designs. Depending on the application, a choice can be made between a standard version and a reinforced version. In the standard version of a single-embossed dimple plate, connections can be made laterally or butt-jointed. In the reinforced version, the single-embossed dimple plate is drilled through on the inside and the connection pipe is welded to the sheet on both sides.
The following guide values are usually important for the user:
Heat exchanger plates in dimensions from DIN A5 up to 14000 x 2000 mm.
Up to 50 bar operating pressure of the heat exchanger plates.
Pillow plates up to 12 mm with profile on one side.
Surfaces: pickled, grinded, polished.
Certificates according to TÜV, PED, TR CU (GOST) and ASME.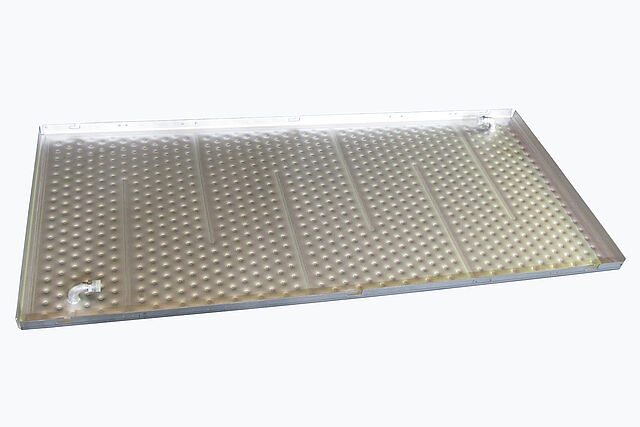 Single embossed plate as frying plate with edged stability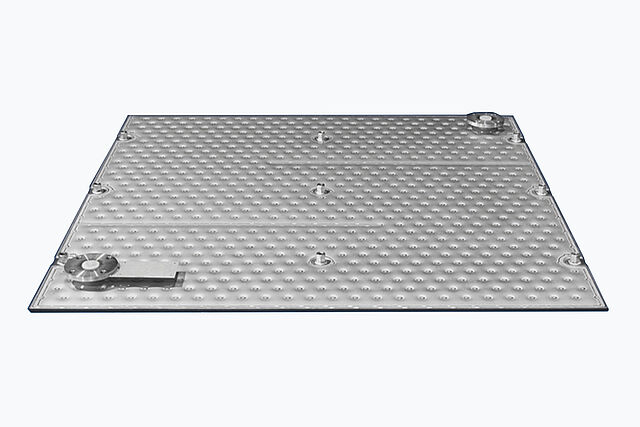 Single embossed plate as flat frying plate