Dimple jacket
Laser-welded dimple jacket integrated into process or bulk tanks
Jacketed vessels are used in many industries. Heat exchange surfaces can be designed either for heating or cooling. They can be used to remove the elevated heat of reaction (heat reactor vessel) or reduce the viscosity of high viscous fluids.

As engineers and consultants, we recognize that dimple jacket design is essential in ensuring process efficiency, efficient heat transfer and cost-effectiveness. With the right expertise and well-designed plates, businesses can streamline operations, maximize thermal exchange across different media and reduce energy consumption drastically.
Single Embossed Dimple Plates for Process tank cooling
Any design possible according to application criteria or demand.
Any welding contour of the pillow plate is freely programmable
High heat transfer coefficient with low pressure drop
No surface damage on the inside of the tank due to the laser-welding process.
Double Embossed Clamp on Pillow Plates for Process tank cooling
Possibilities of using an external clamp-on plate on an existing tank, which is not welded in. The mounting on the existing tank is done by means of screw connections or tension straps, as well as
Any kind of welding free programmable. Cut-outs for pipes, legs. etc.
Attractive investment costs of a pillow plate due to thin-walled plates and an automated laser welding process
Dimple plate jackets and homogeneous tempering
Designing a laser-welded dimple jacket allows optimal configuration of equipment layout as compared to conventional double shell tanks or hilf pipe weldings. As a laser-welded dimple jackets tanks manufacturer, specialized in dimple jacketed tanks and reactor plates for process, storage tanks or pressure vessels, we are experienced with pillow-plate tanks for more than 40 years. Thermal heat exchange surfaces are utilized on vessels for controlling temperature and quality of the contents of the vessel.

According process analysis, there is no more homogeneous tempering than demonstrably formed by a complete enclosure of the product. In other words with an entire heat transfer surface as dimple jacket. However, in comparison to compact external thermal heat exchangers, favorable temperature differences result in a significantly better efficiency. Products, especially beverages, are treated very gently.
Dimple plate jackets, compressive strength and scratchfree inner tank surface walls
Laser-welded dimple jackets are mainly used as process tank plates. In the first place for milk tanks, wine tanks, beer tanks, reactor vessels and pharmaceutical tanks as well as tanks for heating and cooling in food industry or cylinders for solvent recovery. In melting tanks for waxes or fats with regard to the heating or temperature constancy, there have always been problems when using double-wall tanks in the aspect to the compressive strength of the double wall jackets.
The use of our single embossed dimple plates, already deformed and rolled with 100 bar, combine the advantage of compressive strength and required smooth and scratchfree interior of the inner tank wall.
Dimple jacketed vessels surface and quality benefit
Pillow plate jacketed vessels have become increasingly popular in various industries due to their favorable properties. With full surface area coverage for heat transfer, low fluid hold-up, and easy cleaning, these tanks are a flexible and efficient solution for countless applications. Additionally, the cost-effective manufacturing processes make pillow plate jackets an ideal choice for businesses looking to maximize their investments. Dimple jackets can be fitted over multiple surfaces within a tank, providing optimal heat transfer and making them an excellent choice for use in the food and beverage industry, as well as chemical and pharmaceutical applications. By utilizing the many benefits of pillow plate jackets, businesses can enjoy increased efficiency and cost savings throughout their operations.
The large dimple jacketed surface ensures safe process control with homogeneous temperature control. The dimple jacket design as tank cooling jacket allows the temperature control of products during other process steps. This saves a separate thermal process stage and often increases productivity and product quality.
Manufactured tanks out of laser-welded dimple jackets have also less weight, above all, because of less stainless steel material. Tanks can be manufactured cheaper by even higher product quality.
Dimple jacketed method of operation
For instance, single embossed laser-welded dimple jackets are made of two metal sheets of different thickness welded together by using laser or resistance welding. By a special inflation process, fluid channels are created between the metal sheets . Together with the fittings (e.g. pipes with welded ends, flanges or threaded socket ends) these channels form a pressure chamber, through which a fluid will pass to transfer heat transfer to/from the room, enclosing the Single embossed laser-welded dimple jacket. If the Laser-welded dimple jacket enclosing chamber is also a pressure chamber (vacuum or pressure > 0,5 bar above ambient,) this has been considered in the design.
Dimple jacket integration into operation
Single embossed laser-welded dimple jackets are integrated into process tank cooling and heating steps. Individual design in measurement, shape and material, allow flexible use in numerous industries and extend the normal standard. Single embossed laser-welded dimple jackets may be rolled to a cylindrical half-jacket and be clamped on to existing tanks retroactively. Or being welded to rings to build a tank.
How to manufacture a dimple jacket ?
Inflation and dimple plate profiles
Complete cylinder tanks are made from laser welded panels, of those the profiles have not been blown up then. The flow profile of the heat exchange panels will be blown up after the tank has been build. The later dimple plate tank or pressure vessel inside is not damaged by the laser welding process. Surface treatments are generally no longer required. Any shape of cut-outs for pipes etc. can be foreseen. The closed-loop heating system of a jacketed vessel allows for great convenience in batching processes. Many industries require that a vessel be both heated and cooled as part of a single process. A well-designed jacket with a thermal fluid system is a seamless way to achieve the necessary temperatures.
Connection to process of dimple jackets
The connecting pipe work to the laser-welded dimple jacket has to be laid in a way to ensure that tensions due to thermal and mechanical expansion will not lead to damage of the dimple plate connections. The weight of the connecting pipe work has to be supported by suitable supports. If not included in the scope of delivery, we recommend the use of expansion bends and/or expansion joints. Connection seams that have to be welded to the connections have to be carried out and checked in accordance with valid and authorized welding procedures.
Single embossed pillow plate standard connection version
In the single embossed dimple plate standard version, the tube is butt-welded to the inner metal sheet. In the reinforced version, a crown is welded onto the base metal sheet, to which the tube is then welded. The fluid connection to the laser-welded dimple jacket is either by flanges, welding nozzles or screw pipe connections. Please note that the projected flow direction for the heat transfer fluid has to be adhered to.
Dimple jacket screw connection version
In case of screw connections these should be re-tightened during operational conditions after a certain operational period. The heat exchange plates do not have any electric connection. During the operation of the laser-welded dimple jacket with liquids a venting facility for the plates, preferably above the upper piping, should be arranged, if the order related design does not include such a possibility. As per operation of the laser-welded dimple jacket with refrigerants an oil removal device should be installed via the lower pipe, if the refrigeration process makes this necessary and if the order related design of the plates had not considered such specification.
Dimple jacket or pillow plate jacket advantages in comparison to half pipe or double wall manufacturing of process tanks
There are three main alternatives for the tankbuilding of process and bulk tanks: Laser-welded dimple jackets, double shell and hilf pipe manufacturing of tanks. Compared with double-jacket design or welded-on half-pipe coils, which occupy only about half of the surface, laser-welded dimple jacket are more effective and homogeneous. Especially, because they can occupy the entire surface. Above all, laser-welded dimple plates have less volume and allow thinner tank wall thicknesses.
Consequently for the price comparison of the three alternatives, double shell should not be discussed futher, because of too high wall thicknesses compared to competitive pricing. Pricewise, a half pipe welded process tank can be more than double as expensive compared to the laser-welded dimple jacket or pillow plate jacket execution. Main price impacts for higher manufacturing prices with half pipes are higher wall thicknesses and welding times of the half pipes.
Assembly of Laser-welded dimple jackets
Laser-welded single embossed dimple jacket heat exchanger plates are delivered either in the already inflated state or not inflated state, which means, not yet inflated. In case the inflation of the fluid channels is carried out by customer any assist to follow the important steps can be given.
Single embossed dimple plates are suitable for welding in or clamping on cylindrical or rectangular tanks. During welding (weld in element) the base dimple plate takes over the function of the pressure-approved tank wall. These dimple plates are manufactured customized according requirements and can also be adapted to complicated tank shapes. In existing tanks, the double embossed dimple plates can be clamped-on subsequently (clamp-on element), whereby the heat transfer between dimple plate and tank can be further improved by means of heat transfer cement.
How is the single embossed dimple plate supplied to the customer?
I. As weld-im element
1. Component for a cylindrical shell
1.1. Delivered as a flat laser-welded dimple plate
The customer specifies the required tank dimension (diamenter, height, inner dimple plate jacket wall thickness, pressure and medium in the outer dimple jacket space, flow rate). Heat Transfer Technology AG does the layout for the dimple plates (channels, connections, pressure drop) and manufactures the dimple jacket plates on the laser welding machine. Heat Transfer Technology AG manufactures according to customized drawings. the laser-welded dimple plated are shipped in a flat condition.
1.2. Complete dimple plate components
Heat Transfer Technology AG manufactures as under 1.1., but the dimple plate jacket is rolled, inflated, pressure tested and fitted with tubes by Heat Transfer Technology AG.
2. Component parts for conical dimple plate bottoms
2.1. Delivered as a flat laser-welded dimple plate bottom
Heat Transfer technology AG supplies the flat laser-welded dimple pales, cutted to the required shape.
2.2. Complete conical dimple plate bottoms
Upon customer's request, conical dimple plate bottoms can be supplied as finished, approved component with certificate.
3. Component parts for dimple plate dished ends
3.1. Complete dimple plate dished heads
On customer request, dimple plated dished ends can be supplied as finished dimple plate dished end including double shell with certificate. After laser welding, the dimple plate dished ends are manufactured under special requirements into the complete dimple plate dished ends and will be supplied to the customer as a ready component part.
What is the customer's procedure to manufacture the tank?
The tank manufacturer can handle the laser-welded components like standard metal sheets. The laser-welded dimple plates have to be rolled according regulations of Heat Transfer Technology AG, all laser-welded shell sections, bottoms and top ends have to be welded together. After the tank is completely welded, the inflation of the laser-welded metal sheets can be done according to the guideline of Heat Transfer Technology AG. After the inflation, the necessary tubes can be welded to the tank.
II. Delivered as clamp-on element
Existing tanks can be equiped with single embossed dimple plates without having to weld on approved tanks. The single embossed dimple plates are fixed either by tension strips, counter bolting of the dimple plates by use of stay bolts with clamping links. Most effective heat transfer can be achieved by fitting a suitable heat transfer BUCOmastic between the dimple plate jacket and the tank wall.
The heat transfer link – Heat transfer cement
Bucomastic is heat transfer cement, which has been successfully used for more than 50 years in the chemical and process industry worldwide. Originally the product was developed to replace costly jacketed vessels. Today it is increasingly used to retrofit existing tanks with heat exchange plates to maintain a constant temperature or to heat or cool the tank contents.
The advantage for the operators is that when using tension strips for attaching the heat exchanger plates, no welding needs to be carried out on approved tanks and vessels.
Main advantages of heat transfer cement BUCOmastic
low material costs
quick installation
simple and safe handling
long term solution
wide temperature range
excellent heat transfer
available in several grades
Most popular types of heat transfer cements
BUCOmastic T-3
This mastic is the fully curig heat transfer cement that is used in most cases. The temperature application range is between -190°C and +371°C.
BUCOmastic NH
This is a non-setting heat transfer cement with a higher thermal expension capacity, which is used for heating and cooling, especially under changing loads. Its temperature range is between -190°C and +190°C.
Certifications of laser-welded dimple jackets
Laser-welded dimple jacket heat exchange plates have been designed, built and tested as a pressure equipment. In other words, they are supplied with a works certificate or if required by the European Pressure Equipment Directive 97/23/EC, they are certified by CE labeling and a declaration of conformity. If agreed additional certificates can be issued. Details about the design, dimensions connections and authorized operational conditions are part of our delivery content.
Dimple Jacket: Why is it cheaper to produce than a Shell & Tube?
Laser-welded dimple jacket advantages
High heat transfer coefficient with low pressure drop.
No expensive double shell or half pipe construction.
Less weight than half pipes.
Low production costs due to automated welding processes.
Low material costs due to the use of thin metal sheet materials.
No surface damage on the inside of the tank due to the laser-welding process.
No cost effective grinding or polishing of the inner surface of the tank inside in case of dimple plates.
Homogenous and conciliatory tempering of products using dimple plates.
Long lifetime due to individually choosen materials.
Welding contours of pillow plates freely programmable.
Any design possible according to application criteria or demand.
Kind of weldings for dimple plates free programmable. Cut-outs for pipes, legs. etc.
Integration into vessels for mechanical and thermal double function.
Smaller quantities of refrigerant or heating medium due to small plate volumes of dimple plates
Clamp-on plates for existing tanks.
Reliability.
Dimple jacket technical data
Manufacturer of sizes up to 14000 x 2000 mm.
Manufacturer of cylinders made of one piece: diameter from 600 – 3800 mm.
Dimple jackets for conical, as well as for elliptical pressure vessels' heads.
Up to 50 bar operating pressure for pressure vessels dimple jacketed tank walls.
Pressure vessels wall thickness 0.8 – 1.5 mm with dimpled plates on the outer side.
Up to 12 mm groundplate with single embossed dimple plate profile on the inner side for pressure vessels.
Dimple jacket specifications
As a dimple jacket design for water, glycol, thermal oil or steam inside the dimple jacketed vessel.
As tank cooling dimple jacket in form of dimple plates for all refrigerants.
Used as pump- or gravity- or dry expansion system for pressure jacketed vessels.
Channel design of the dimple jacket according to individual calculation by experienced engineers.
Carbon steel or stainless steel as: AISI 304, AISI 316L, AISI 316Ti up to titanium.
Surfaces: stained, ground, polished.
Certificates according to TÜV , PED , TR CU (GOST) and ASME.
Dimple jacket applications and benefits
Homogenious tempering of liquids in process tanks. Such as in milk tanks, wine tanks, beer tanks, reactor vessels and pharmaceutical tanks.
For over 50 years BUCO tank plates and pressure vessel walls.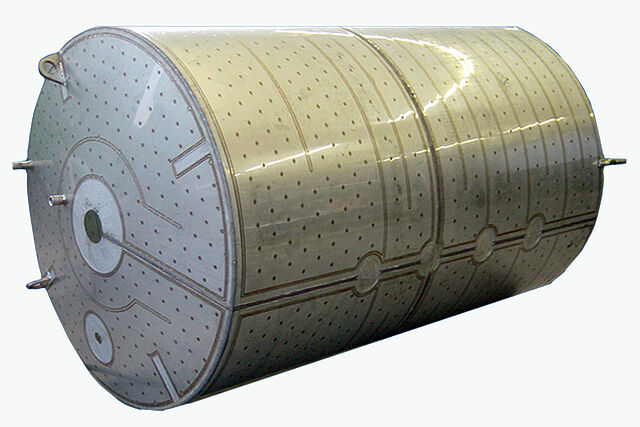 Dimple-Plate-Jacket-Process Tank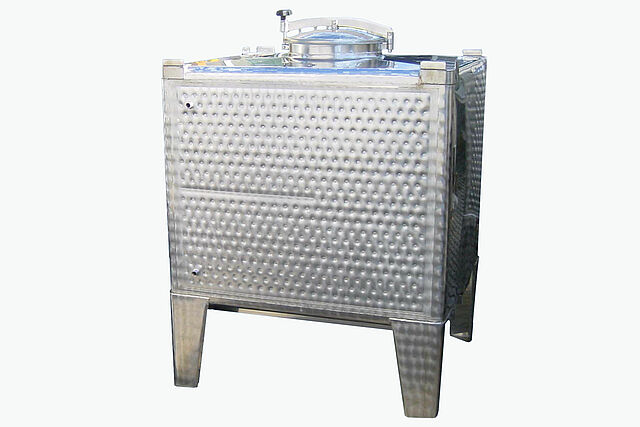 Dimple Plate Jacket design of a square process tank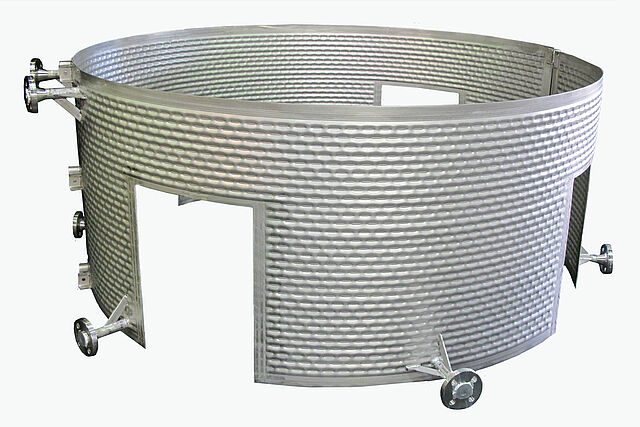 Half cylinder clamp-on plate with cut-outs for mounting on existing tank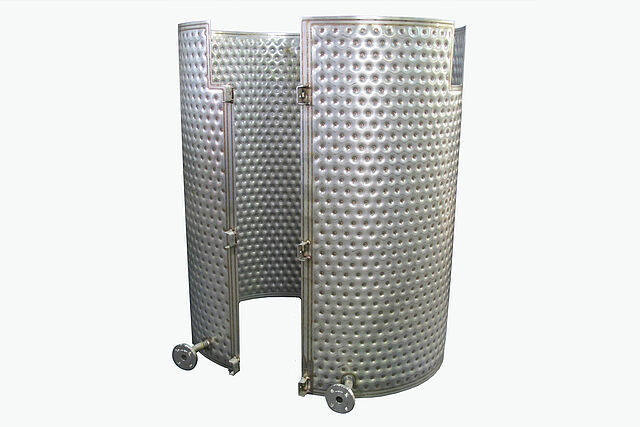 Half cylinder clamp-on plate for process tanks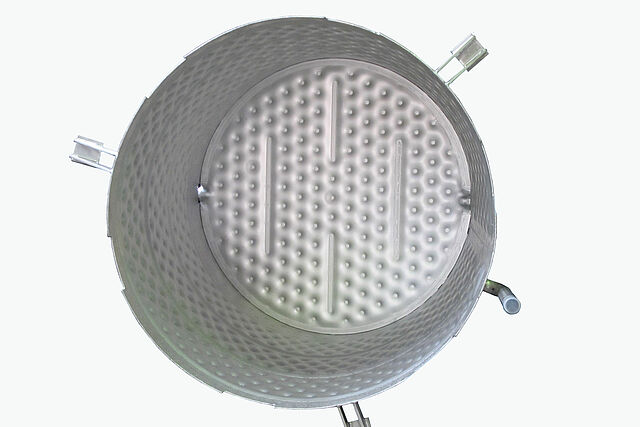 Dimple Plate Jacket Tank with inner pillow design
Half cylinder plates with lock clamps for flexible use on standardized tanks
We have always assimilated engineering science and thermodynamics optimally in the various manufacturing processes.
Thermodynamicists,mechanical engineers and welding engineers define the dimensioning, design and construction of customised heat exchanger panels and systems in materials ranging from mild and austenitic steels through to titanium, and ensure successful distribution of their work worldwide.
In doing so they fall back on production engineering expertise and calculations developed in the course of the past hundred years that are still being continuously optimised in an ongoing process.