Heat Exchange System
Dimple Plate Heat Exchange Systems for liquids with fluctuating temperatures or volumes
A pillow-plate heat exchange system can be used for liquids with fluctuating temperatures or volumes as well as for heat recovery from polluted gases or vapors. A variable welded construction of double embossed pillow plates as heat transfer system allows the use for extremely high pressure ranges. The adapted production profile offers solutions in the entire process plant industry. The volume-dependent design proves to be particularly advantageous when two-phase media are used.

Not only will this type of heat exchanger provide superior performance over traditional shell-and-tube methods, but it also offers numerous environmental benefits completely made out of stainless steel – making it the perfect choice when seeking out a sustainable solution to meet your engineering needs. Read on to find out more about how pillow plates can be beneficial in engineering applications!

Are you an engineer or consultant looking for an efficient and effective solution to increase heat transfer, reduce pressure loss, and improve your system's u-value?
Consider using a pillow plate heat exchange system. This innovative technology is a widely used and reliable method of exchanging thermal energy efficiently with minimal losses, enabling engineers and consultants to create better design solutions that are cost-effective.
Is a heat transfer system with pillow plates the right choice for you?
Stable process control with a dimple plate
In the world of industrial applications, pillow plate banks are a versatile and valuable tool. From liquid-liquid to gas-liquid and even high viscosity or dirty media, these banks can handle a wide range of fluid requirements. They are particularly useful in low pressure loss environments and in condensation, falling film evaporation and water chilling. But the benefits don't end there - with the ability to construct banks that allow individual plates to be separated from the stack, easy cleaning and maintenance is also possible. As immersion chillers, they are a popular choice in electroplating and can even be utilized in the food industry for flake ice generation. Pillow plate banks are a true workhorse, with a range of applications that make them an investment well worth considering.
For stable process control, our dimple plate heat exchange system compensates load peaks or temperature jumps of liquids either by control technology or by a buffer volume of a large tank. Heat Exchange Systems out of double embossed pillow plates have been used in refrigeration applications for a long time. Due to their technical advantages, they are also becoming increasingly popular in the chemical industry and in process engineering plants, especially in applications where tube bundle apparatus and tube coils are ruled out due to contaminated media. While these apparatuses were preferred in the past because of the favorable price, it has now been recognized that the purchase advantage is partly eaten up after short operating times due to high maintenance and cleaning costs. The use of a double embossed pilllow plate for a Heat Exchange Embossed Dimple Plate System is therefor particularly useful where contaminated media (e.g. exhaust air, waste water) are present for heat exchange and require easy cleaning.
What is a custom-made heat transfer system?
Dimple Plate Heat Transfer Systems and their requirements for mass flow and optimal pressure drop
The welded pillow plates of a Heat Exchange System can be designed according to the requirements for mass flow and optimal pressure drop. By varying the cross section and wall thickness, operating pressures from vacuum to high pressure can be manufactured. An alternative to conventional plug-in heat exchangers with u-shaped bent tubes, can be our register of double-sided profiled embossed heat exchanger pillow plates with a front head for heating or cooling as plug-in heat exchanger or clamp-on heating cooling. Water, brine, steam or thermal oil can be used as heat transfer media. Due to the variation possibilities of the designs, our Heat Exchange Systems are used for cooling or heating almost all liquid, gaseous or particle-laden media in process plants.
Dimple plate heat exchange systems in ice water storage tanks
Individual heat exchange systems made out of double embossed pillow plates with individual outputs of up to 2.4 megawatts are also used to produce +1°C cold ice water. Complex PLC controls ensure that the temperature does not fluctuate by more than half a degree Celsius. The natural refrigerant ammonia is used here, which is not only climate-neutral but also stands out for its high energy efficiency. Due to its very good thermodynamic properties of double embossed pillow plates, ammonia requires the least amount of energy to generate a certain refrigerating capacity. This advantage of plates pillow plate is particularly important for large refrigeration plants in the food industry, especially in dairies with their large plants, so that refrigeration plants with ammonia have proven to be a clever solution in these industries. At the same time, for example, in the case of a 2.4 megawatt unit, the ammonia filling quantities are low. Less than 750 kilograms circulate.
What is a dimple plate heat exchange system?
Dimple plate heat exchange system surface advantages
Finally, the large heat exchange system surfaces by double embossed heat exchanger pillow plate surfaces ensure safe process heating cooling control with temperature control. Consequently, the U values ​​are only insignificantly influenced, even if they are soiled or soiled on the boards. In the long run, therefore, significantly better efficiencies compared to compact external heat exchangers closed design. Even when it comes to contamination, our Heat Exchange Systems ensure high performance stability. The open construction of the heat exchange systems allows quick inspections as well as uncomplicated cleaning processes and thus a high degree of operational safety.
If necessary, the cooling process can be further stabilized by a slight ice build-up. As a result, this reserve of power gives you security. Individual designs of heat transfer systems and heat transfer surface in size, shape and material enable flexible use in numerous applications and thus expand the standard.
Our advantages of pillow plates in heat exchanger systems?
High U-valued due to slightly corrugated double embossed heat exchanger plate surfaces
Free cross-sections between the dimple plated optimally adapted to the product flow conditions
Dimple Plate fully welded design with double tight weld
These pillow plates are power stable when used with contaminated media
Easy, fast inspection and cleaning in case of pillow plates
Longevity thanks to complete double embossed plate stainless steel construction
For fluctuating power requirement: compensation of temperature and flow fluctuations in the tank
Simple control by buffer effect
Minimal pressure loss on the outside of pillow plates
Pillow plate heat transfer systems for any design according to application criteria or specification
Heat Exchange Systems with pillow plates and their technical specifications
Pillow plate heat exchange systems with capacities from 10 kW to 1000 kW
Any dimple plate heat exchanger sizes and dimensions
With tank or alternatively adaptable to existing tanks
Dimple plate evaporator manufacturer for all refrigerants and operating modes
Dimple Plate Manufacturer for compact, plug-in units up to 100 kW or for on-site refrigeration systems
Manufacturer for brine operation or as a liquid – liquid heat exchange system
Pillow plates in operation as a gas – liquid heat exchanger in the sewer
Heat Exchange Systems with pillow plates and their applications and benefits
Compensation of temperature peaks due to large buffer volume in the tank
Solvent condensation
Vapour condensation
Water steam condensation
Suitable for any solids-laden or contaminated liquid
Bleaching Iye heating
Pulp digester heating
White water cooling
Air drying
Heat Exchange Systems with pillow plates and their construction and dimensions
Plate sizes in systems up to 3000 x 2000 mm
Wall thicknesses 0.8 / 0.8 up to 3 / 3 mm
System design and duct guidance and duct cross-sections according to individual design by experienced engineers
Rolled cylinders or plates adapted to round containers
Operating pressure up to 20 bar, in special cases up to 50 bar
More than 10.000 heat exchange systems out of pillow plates in operation. More than 50 years manufacturer of heat exchange systems.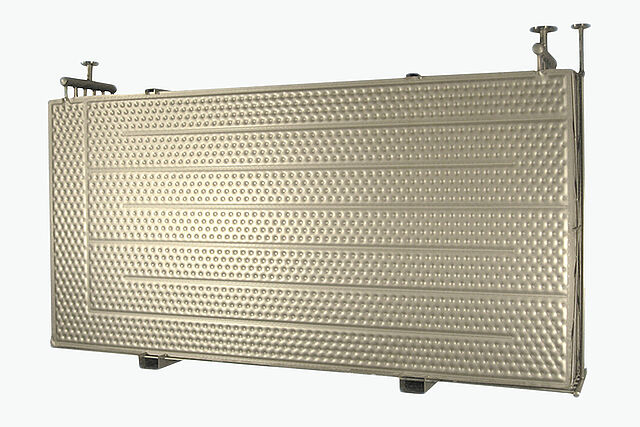 Better surface cleaning and heat transfer compared to tubes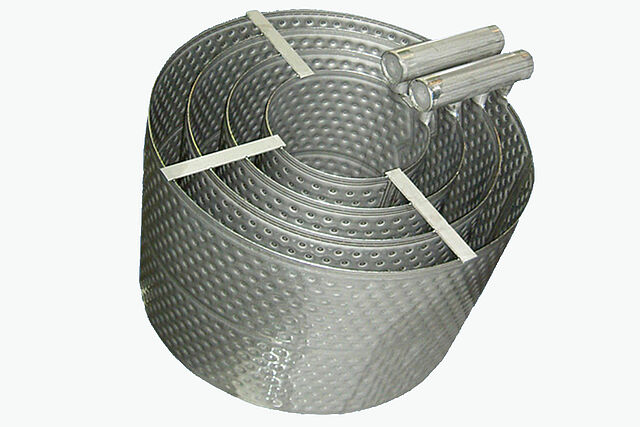 Round rolled heat exchange system
We have always assimilated engineering science and thermodynamics optimally in the various manufacturing processes.
Thermodynamicists,mechanical engineers and welding engineers define the dimensioning, design and construction of customised heat exchanger panels and systems in materials ranging from mild and austenitic steels through to titanium, and ensure successful distribution of their work worldwide.
In doing so they fall back on production engineering expertise and calculations developed in the course of the past hundred years that are still being continuously optimised in an ongoing process.